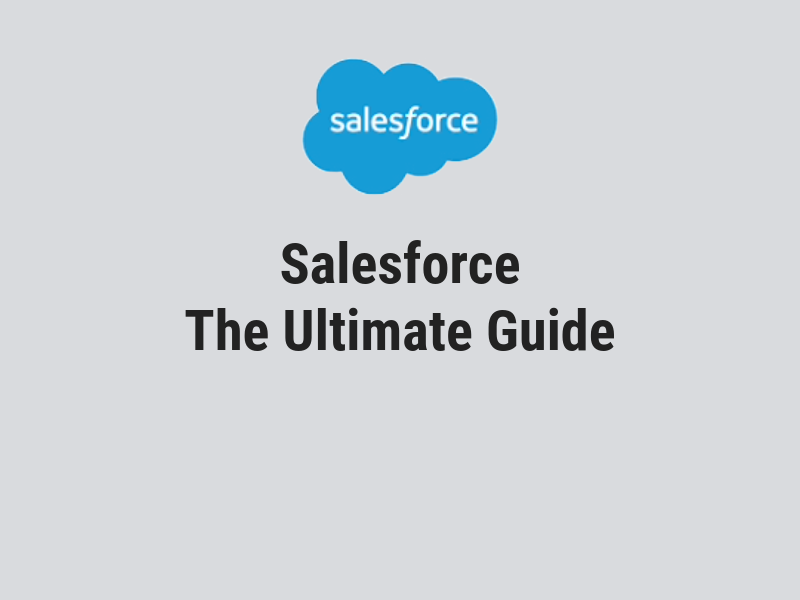 Salesforce: The Ultimate Guide
Table of Contents
Introduction: Salesforce Guide
In an era of digital transformation, Salesforce has emerged as a game-changing force in the business world. Salesforce guide dives deep into depth, uncovering its historical roots, product offerings, groundbreaking events, and the myriad ways it has redefined customer relationship management and enterprise solutions.
1. The Genesis of Salesforce: A Brief History
Salesforce was born in 1999, when Marc Benioff, Parker Harris, Dave Moellenhoff, and Frank Dominguez came together to pioneer a cloud-based CRM system. Their vision was to liberate businesses from the constraints of traditional software and usher in an era of accessibility, scalability, and innovation. In 2000, Salesforce launched its inaugural product, Salesforce Automation, a web-based CRM tool that reshaped how companies manage leads, sales, and customer interactions.
2. Dreamforce: The Ultimate Salesforce Experience
Dreamforce, a cornerstone of Salesforce's ethos, debuted in 2003 as a modest gathering. Since then, it has grown into the world's largest software conference, attracting Trailblazers from around the globe. This annual event is a convergence of visionary keynotes, hands-on workshops, networking opportunities, and a showcase of cutting-edge technologies. It's where industry luminaries share insights, unveiling the future of business technology.
3. AppExchange: Expanding the Ecosystem
AppExchange, launched in 2005, is Salesforce's app marketplace. It's a treasure trove of third-party applications, integrations, and solutions that extend the capabilities of the Salesforce platform. From marketing automation to customer service enhancements, businesses can cherry-pick apps that align with their objectives, fostering a bespoke CRM experience.
4. Apex Development: Building on the Salesforce Platform
Apex, Salesforce's proprietary programming language, was introduced to empower developers to create custom functionality and business logic within the platform. Similar to Java, Apex is used to build triggers, classes, and controllers, enabling businesses to tailor their CRM solutions to their precise needs. The result is a dynamic and scalable ecosystem that evolves with the organization.
5. Visualforce: Designing Custom User Interfaces
Visualforce, born in 2008, allows developers to craft custom user interfaces that seamlessly integrate with Salesforce's data and logic. It marries HTML, CSS, and Apex code, enabling businesses to create intuitive, brand-aligned interfaces for their CRM applications. This capability enhances user experiences and facilitates better engagement.
6. Salesforce Clouds: Empowering Different Industries
Salesforce's industry-specific solutions, aptly termed "clouds," offer tailored functionalities for diverse sectors. The Sales Cloud, for instance, focuses on sales automation and lead management, while the Service Cloud prioritizes customer support and engagement. Marketing Cloud, Commerce Cloud, and others cater to distinct business needs, providing integrated solutions that drive growth. Salesforce Clouds are specialized platforms within the Salesforce ecosystem designed to address the unique challenges and needs of specific industries. Each cloud offers a suite of tools, features, and functionalities tailored to the demands of a particular sector, allowing businesses to streamline their operations, enhance customer engagement, and drive growth. Let's explore some of the key Salesforce Clouds:
Sales Cloud: The Sales Cloud is the foundational cloud that focuses on sales automation, lead management, and customer relationship management. It provides tools for tracking leads, managing opportunities, and analyzing sales performance, enabling sales teams to close deals more efficiently and effectively.
Service Cloud: The Service Cloud is dedicated to customer service and support. It empowers organizations to deliver exceptional customer experiences by providing tools for case management, knowledge base creation, and multichannel support. With the Service Cloud, businesses can resolve customer issues quickly and provide personalized assistance.
Marketing Cloud: An all-encompassing marketing automation platform empowering enterprises to strategize and implement precision-targeted marketing campaigns across a multitude of communication channels. It includes features for email marketing, social media marketing, customer journey mapping, and data analytics, allowing marketers to engage with customers in a more personalized and impactful way.
Commerce Cloud: Formerly known as Demandware, Commerce Cloud is designed for businesses in the retail and e-commerce sector. It provides a scalable and customizable platform for creating online storefronts, managing product catalogs, processing orders, and delivering seamless shopping experiences across various devices.
Community Cloud: Community Cloud facilitates the creation of branded online communities for customers, partners, employees, and other stakeholders. Organizations can use Community Cloud to foster collaboration, share information, and provide a platform for engagement and self-service.
Health Cloud: Health Cloud is tailored for the healthcare and life sciences industries. It provides a suite of resources for overseeing patient information, orchestrating care collaboration, and fostering active patient participation. Health Cloud enables healthcare providers to deliver more personalized and connected patient experiences.
Financial Services Cloud: Financial Services Cloud caters to the needs of the financial services industry. It provides tools for relationship management, client engagement, and compliance. Financial advisors can use this cloud to build stronger relationships with clients and offer personalized financial advice.
Government Cloud: Government Cloud is designed to meet the specific requirements of government agencies and organizations. It offers tools for citizen engagement, case management, and collaboration, helping government entities provide more efficient and transparent services.
Manufacturing Cloud: Manufacturing Cloud is designed to assist manufacturers in managing their operations, supply chains, and customer relationships. It provides visibility into sales agreements, production data, and customer demand, enabling manufacturers to make informed decisions and optimize their processes.
Not-for-Profit Cloud: Not-for-Profit Cloud supports nonprofit organizations in managing donor relationships, fundraising campaigns, and program delivery. It helps nonprofits drive engagement, increase donations, and achieve their mission-driven goals.
Salesforce Clouds are industry-specific solutions that empower organizations to address their unique challenges and seize opportunities within their respective sectors. By tailoring tools and features to industry-specific needs, Salesforce Clouds enable businesses to enhance customer experiences, drive innovation, and achieve success in a rapidly changing business landscape.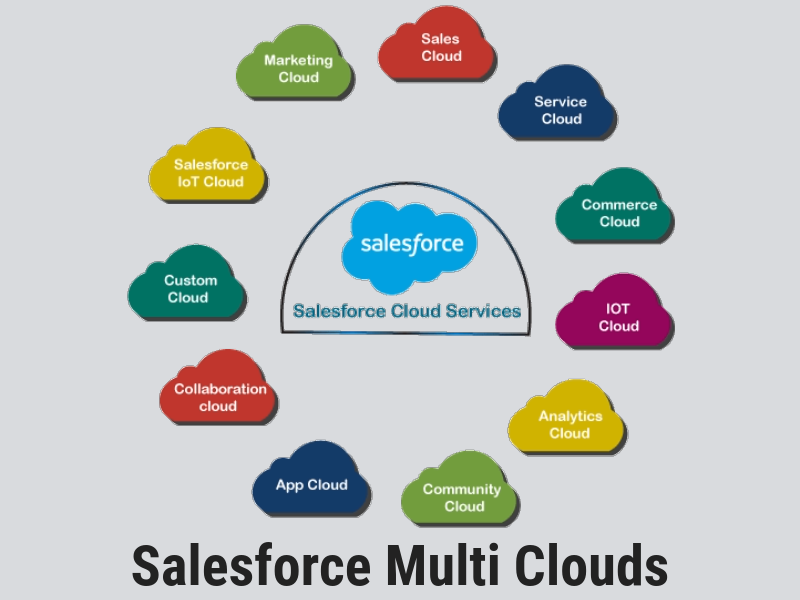 Salesforce service-oriented industries:
Field Service Lightning: This cloud is designed for organizations that provide field services, such as maintenance, repairs, and installations. Field Service Lightning enables businesses to optimize scheduling, dispatching, and resource allocation. It empowers field technicians with real-time information, ensuring efficient service delivery and customer satisfaction.
Utilities Cloud: Utilities Cloud is tailored for companies in the utilities industry, including electricity, water, and gas providers. It offers tools to manage customer interactions, billing, and service requests. Utilities can enhance customer engagement, optimize operations, and adapt to changing regulatory environments.
Communications Cloud: Communications Cloud is geared towards telecommunications companies. It helps them manage customer relationships, service activation, and network operations. With Communications Cloud, providers can streamline their operations, offer personalized services, and stay competitive in a rapidly evolving market.
Media Cloud: Media Cloud is designed for media and entertainment companies, including broadcasters, publishers, and content creators. It offers tools for content management, audience engagement, and advertising. Media companies can deliver personalized content experiences, analyze audience behavior, and monetize their digital assets.
Insurance Cloud: Insurance Cloud serves the insurance industry by providing tools for policy management, claims processing, and customer engagement. Insurance companies can use this cloud to improve underwriting accuracy, expedite claims, and enhance customer interactions.
Consumer Goods Cloud: Consumer Goods Cloud is aimed at consumer goods manufacturers and distributors. It helps businesses manage retail execution, sales performance, and inventory. Manufacturers can collaborate with retail partners, optimize shelf space, and drive sales growth.
Higher Education Data Architecture (HEDA): HEDA is not a standalone cloud but rather a framework built on the Salesforce platform. It supports colleges and universities by offering tools for student engagement, recruitment, and advancement. HEDA helps educational institutions deliver a seamless student experience and manage relationships with alumni and donors.
Nonprofit Cloud: While mentioned earlier, Nonprofit Cloud deserves special attention here. It's tailored for nonprofit organizations, providing tools for donor management, fundraising, and program delivery. Nonprofits can use this cloud to strengthen relationships with donors, volunteers, and beneficiaries.
Travel and Hospitality Cloud: Travel and Hospitality Cloud is designed for businesses in the travel, hospitality, and tourism sectors. It offers solutions for guest management, reservations, and loyalty programs. Travel companies can create personalized guest experiences, optimize room occupancy, and drive customer loyalty.
Real Estate and Mortgage Cloud: This cloud caters to the real estate and mortgage industries. It provides tools for property management, lead generation, and mortgage origination. Real estate professionals can streamline property transactions, manage client relationships, and automate processes.
These industry-specific Salesforce Clouds demonstrate the platform's commitment to addressing the unique needs of diverse service-oriented sectors. By offering tailored solutions, Salesforce empowers organizations in these industries to enhance customer experiences, optimize operations, and drive growth in today's competitive landscape.
Trailhead Learning Platform: Empowering Trailblazers
Trailhead, introduced in 2014, is Salesforce's revolutionary learning platform. It offers interactive, gamified modules that enable users to learn, develop skills, and earn badges and certifications. This unique approach to education cultivates a community of "Trailblazers" who continuously expand their expertise, accelerating their careers and propelling innovation.
Other Services and Products
Pardot: Acquired by Salesforce, Pardot is a B2B marketing automation platform that streamlines lead generation, nurturing, and tracking, fostering smarter marketing campaigns.
Einstein Analytics: This suite harnesses artificial intelligence to unearth actionable insights from vast data sets. Its predictive analytics, data visualization, and machine learning capabilities empower informed decision-making.
MuleSoft: Salesforce's acquisition of MuleSoft in 2018 amplified its integration prowess. MuleSoft's Anypoint Platform connects disparate systems and data sources, enabling seamless data flow across the enterprise.
Salesforce CRM services
Sales Cloud: The Sales Cloud is the heart of Salesforce's CRM offerings. It empowers sales teams with tools for lead management, opportunity tracking, contact management, and sales analytics. With Sales Cloud, businesses can manage their sales pipeline, collaborate effectively, and close deals more efficiently.
Service Cloud: Service Cloud is Salesforce's solution for customer service and support. It enables organizations to provide exceptional customer experiences by centralizing customer interactions, automating case management, and offering multi-channel support. Service Cloud helps businesses resolve customer issues faster and deliver personalized support.
Marketing Cloud: Marketing Cloud is Salesforce's marketing automation platform that enables businesses to create, execute, and analyze marketing campaigns across various channels. It offers features for email marketing, social media engagement, personalized content delivery, and data analytics. Marketing Cloud helps marketers segment audiences, tailor messaging, and drive engagement.
Commerce Cloud: Commerce Cloud empowers businesses to create seamless online shopping experiences for their customers. It provides tools for building e-commerce websites, managing product catalogs, processing transactions, and offering personalized recommendations. Commerce Cloud helps businesses drive conversions and increase customer loyalty.
Community Cloud: Community Cloud facilitates the creation of online communities for customers, partners, and employees. It allows organizations to connect stakeholders, share information, and foster collaboration. Community Cloud enhances engagement, self-service, and knowledge sharing within the community.
Analytics Cloud (Einstein Analytics): Einstein Analytics harnesses the power of artificial intelligence to deliver insights from data. It enables users to explore data, uncover trends, and make data-driven decisions. Einstein Analytics provides interactive data visualizations, predictive analytics, and AI-powered insights.
Platform: Salesforce's platform capabilities enable businesses to build custom applications, automate workflows, and integrate systems. The platform includes tools like Lightning App Builder for creating custom apps, Process Builder for automating processes, and Flow for building visual workflows.
Integration and APIs: Salesforce offers a range of integration solutions and APIs that allow businesses to connect Salesforce with other systems and data sources. This integration capability ensures that data flows seamlessly between applications, enabling a unified view of customer interactions.
Mobile App: Salesforce offers a mobile app that extends CRM capabilities to mobile devices. This app allows users to access customer data, collaborate with team members, and manage tasks on the go. It enhances productivity and responsiveness for sales, service, and marketing professionals.
IoT Cloud: IoT Cloud enables organizations to collect, process, and analyze data from connected devices and sensors. It allows businesses to derive insights from IoT data, create automated actions, and deliver personalized experiences based on real-time information.
AI and Machine Learning (Einstein): Salesforce's AI platform, Einstein, infuses AI capabilities into various CRM services. It helps businesses predict customer behavior, automate tasks, and personalize interactions. Einstein enhances sales forecasting, customer insights, and overall efficiency.
These core Salesforce CRM services provide businesses with the foundation they need to manage customer relationships, streamline operations, and drive growth. By offering a comprehensive suite of tools, Salesforce empowers organizations to deliver exceptional customer experiences and stay ahead in today's dynamic business landscape.
Integrating new trends
Artificial Intelligence (AI) and Machine Learning (ML): Salesforce has integrated AI and ML capabilities through its Einstein platform. This includes predictive analytics, automated insights, and AI-powered recommendations. Einstein helps businesses understand customer behavior, automate processes, and deliver personalized experiences.
Internet of Things (IoT): Salesforce's IoT Cloud enables organizations to collect and analyze data from connected devices. This data can be used to improve customer experiences, optimize operations, and even create new revenue streams by offering value-added services.
Blockchain Technology: Salesforce is exploring the integration of blockchain technology to enhance transparency and trust in business transactions. It can be used for supply chain management, verifying product authenticity, and secure data sharing.
Voice and Conversational AI: As voice assistants and chatbots become more prevalent, Salesforce is embracing this trend. Integrating conversational AI allows businesses to engage with customers through voice and text-based interactions, providing instant support and personalized experiences.
Low-Code and No-Code Development: Salesforce's low-code development tools, like Lightning App Builder and Flow, enable users to create custom applications and automate workflows with minimal coding skills. This democratizes application development and accelerates innovation.
Data Privacy and Compliance: With increasing regulations like GDPR and CCPA, Salesforce is focusing on data privacy and compliance features. The platform helps businesses manage customer data responsibly, ensuring trust and compliance with data protection laws.
Remote and Hybrid Work Environments: Salesforce has adapted to the shift towards remote and hybrid work models. It's cloud-based nature and mobile app enable users to access CRM data and collaborate seamlessly from anywhere, supporting the changing work landscape.
Personalization and Customer 360: Salesforce's Customer 360 vision aims to provide a unified view of customers across all touchpoints. By merging data from different sources, businesses can deliver personalized experiences and anticipate customer needs.
Digital Transformation and Cloud Adoption: The ongoing digital transformation journey across industries aligns well with Salesforce's cloud-based solutions. As businesses migrate to the cloud, Salesforce provides the tools needed to transform customer interactions and operational processes.
Sustainability and Corporate Social Responsibility: Salesforce's commitment to sustainability aligns with the growing trend of companies embracing social and environmental responsibility. Salesforce's technology can aid in tracking and reporting sustainability efforts.
Augmented and Virtual Reality: While still evolving, Salesforce is exploring how augmented and virtual reality can enhance customer experiences. These technologies can enable immersive product demonstrations, virtual showrooms, and remote assistance.
5G Connectivity: As 5G technology becomes more widespread, Salesforce can leverage its capabilities to enhance real-time data access, improve app performance, and support more sophisticated applications like AR/VR and IoT.
In summary, Salesforce's integration with new trends showcases its adaptability and forward-thinking approach. By embracing emerging technologies, Salesforce empowers its users to stay competitive, deliver exceptional experiences, and achieve their business goals in a rapidly evolving digital landscape.
Salesforce Pricing
It's important to note that Salesforce pricing can change over time, and it's recommended to visit the official Salesforce website for the most up-to-date pricing information. Here are some general categories of Salesforce pricing:
Sales Cloud Pricing: Sales Cloud offers several pricing tiers based on the level of functionality and features needed. Pricing usually starts per user per month and can vary based on the edition (such as Essentials, Professional, Enterprise, or Unlimited) and any add-ons or customization required.
Service Cloud Pricing: Similar to Sales Cloud, Service Cloud pricing depends on the edition and additional features needed. It's typically billed per user per month and can include features like case management, omnichannel support, and a knowledge base.
Marketing Cloud Pricing: Marketing Cloud pricing can vary significantly based on factors like the number of subscribers, email volume, and specific features required for your marketing campaigns. It's often based on usage and can include features such as email marketing, social media management, and automation.
Commerce Cloud Pricing: Commerce Cloud pricing can vary based on the scale and complexity of your e-commerce operations. It typically involves a combination of licensing fees, implementation costs, and transaction-based fees for larger businesses.
Einstein Analytics Pricing: Pricing for Einstein Analytics may vary based on the edition and features you need for data analysis and insights. It often involves a subscription-based model, with pricing tiers depending on the complexity of your data analytics requirements.
Platform Pricing: Salesforce's platform offerings, including App Cloud and Integration Cloud, often involve subscription-based pricing that can vary based on factors like the number of users, custom app development needs, and integration requirements.
Additional Products and Add-Ons: Salesforce offers a wide range of additional products, such as Pardot (B2B marketing automation), MuleSoft (integration platform), and Tableau (data visualization), each with its own pricing structure.
Nonprofit and Education Pricing: Salesforce offers special pricing and discounts for nonprofit organizations and educational institutions through its Salesforce.org initiative.
Remember that Salesforce pricing can be complex, and it's advisable to reach out to Salesforce's sales team or a Salesforce partner to discuss your specific needs and get a customized pricing quote. Additionally, keep in mind that Salesforce occasionally offers promotions, discounts, and special deals that can influence the final pricing. Always refer to the official Salesforce website or contact Salesforce representatives for the most accurate and current pricing information.